More than 500,000 residents in nursing homes and long-term care facilities have been infected in the United States, accounting for 40% of the total deaths from COVID-19. Among survivors, an understanding of the expected durability of the antibody response may be helpful in estimating the risk of a new infection. This is particularly important in preparation for another surge. Previous studies have reported durability of response up to 4 months in adults with an average age ≤ 60 years. However, little is known about the durability of antibody response in older, potentially less immunogenic, long-term care populations. A study was published in JAMDA that assessed the durability of antibody response in long-term care populations from the time of initial infection over a 6-month period.
The SARS-CoV-2 IgG assay is helpful in identifying recent or prior COVID-19 infection. At this time, it is unknown how long antibodies persist following infection. In this population of long-term care residents, we found that 91% still had IgG seropositivity at 6 months, although with lower titers over time. Others have shown that individuals with mild or asymptomatic infection develop less robust antibody responses. The durability of response to natural infection in this vulnerable population clearly wanes over time, further magnifying the importance of the large vaccination efforts currently under way.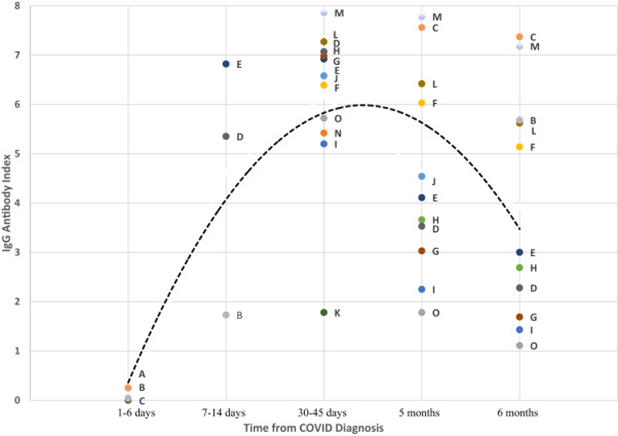 Please encourage your caregivers to be vaccinated as we don't want another "wave" of infection to strike our seniors again in 6 months. Asymptomatic caregivers can and often do bring the virus into our centers and if our residents were vaccinated in January, by summer their antibody response will begin to wane.
Stay the course, stay well, mask up, get vaccinated, and stay tuned!